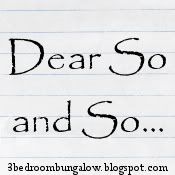 Dear Long-time Friend,
I know to you it seems like all I do is complain about being ill, but you have no idea. Compared to the pain I'm feeling, I hardly mention it. And while I realise to you doctors' appointments aren't important, I've been averaging one every two weeks the last six months. For a girl that only gets out of the house a couple days a week that's a hefty portion of my life. For me these hospital appointments are my way of fighting for my dreams, every ounce of strength I've had the last few years has been invested in starting a family.
I'd love to be a fun and boisterous person with thrilling tales to entertain you, but that's not the life I got dealt. I'm happy to listen to anything and everything you'd like to share with me, but it would be nice if you didn't make me feel guilty for having nothing else to share other than my own experiences, boring though you might find them.
Cheers – AG
~*~*~*~*~*~*~*~*~*~*~*~*~*~*~*~*~*~*~*~*~*~*~*~*~*~*~*
Dear lovely consultant at the hospital,
I'm so, so sorry for making your late clinic run even later! But thank-you so much for being proactive and trying to make sure I get the treatment I need. You were only expected to do an ultra-sound, but instead took a short medical history and listen to my frustrations about the horrible appointment I had last time.
Thank you for taking this to the 'awkward cases' meeting so we can sort this out before I start the Clomid again in September, and thank-you for saying I should have be seen by the consultant rather than the junior doctor, I now feel more confident about fighting for more appropriate treatment.
You've restored my confidence in Merseyside hospitals,
Love 'The Awkward Case'