It seems like there's never enough storage space in our house, so lately I've been trying to make the space we have work more efficiently.
The first step was to sort out our hall closet. Despite the two doors, it seems the previous owners removed the shelf - leaving the top of the closet just wasted space.
So when we were buying wood to
finish our kitchen dresser
, we bought an extra bit for a new shelf. Mr Goldfish cut out a notch for our pipes and gave it a lovely finish.
We now have a new easy to access home for our board games, which has also freed up lots of space under the stairs. (Please excuse all the bare plaster, we have horrible Artex infestation which we're slowly eradicating.)
The really clever bit though is under the shelf. I spotted this
brilliant idea on Pinterest
a few months ago. Not only is it a great use of space, it also protects the paper from getting crumpled and damaged.
We used four cup hooks and some bungie cords to create our sling, which gives you enough flexibility to get the tubes in and out. We were a bit wary of clipping the elasticated cords near the hot pipes, so instead we angled the back support.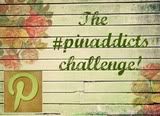 I'm thrilled with how well it's worked!
To see what the other Pinaddicts have been up to this month, pop over to
Melksham Mum
.